One day, Isaac called his son Easu and told him "My son, take your bow and arrow and go hunting. I want you to cook for me a meal that I will love, then I will give you my blessing before I die."

Isaac's wife, Rebekah, heard the conversation between Isaac and Easu. She called her favorite son, Jacob, and told him what his father said to Easu. "My son, Obey my voice, go hunt as well and bring the hunting to me so that I can prepare a meal for your father. Then you shall take it to him and you will get the blessing." Jacob was afraid that his father would recognize him from the smoothness of his arms.

When the meal was ready, Rebekah called Jacob and made him wear a coat that belongs to Easu.

She also tied pieces of hairy goat skin on his arms and hands and sent him to his father.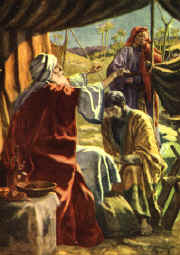 It is a must to protect our loved ones online and to monitor if they accidentally visit porn sites. Porn blockers are not 100% effective. So we recommend a porn scanning and deleting software.

"Come near me my son" said Isaac to Jacob. "These are Easu's hairy hands, and the coat is Easu's

and it smells of the fields" thought the old man. Isaac dined from the meat and wine that Jacob brought for him, and he gave him the wished-for blessing. After Jacob left, Easu returned from the fields and went to see his father. "Who are you?" Isaac said As he heard Easu's footsteps. "I am your first born son, and I have brought you the meal that you may eat it and give me your blessing" Easu replied.

Isaac trembled as as he heard this. "Who is it that came before you, brought the meal and took the blessing?" Isaac said. Eausu wept for the blessing which he began to value when he knew it could not be his.

He left his father in anger and set out to kill his brother Jacob.

When his mother saw him, she knew what he was up to and feared for the life of her favorite son Jacob.

Rebekah told Jacob "My son, you must leave this place until your brother's anger has passed". Jacob, received the last blessing from his father and left home without seeing his brother again.